Celebrate Quinn's Life

---
We Will Miss You!

---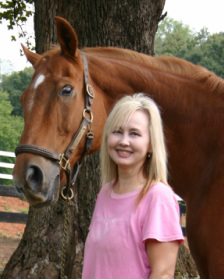 RIP Quinn
"We made it to UGA but Quinn passed away a few minutes before we got there, in the trailer. He was adopted and loved by
Alisa Cray
. He was her best man. We are very sad at such a loss." ~Cheryl
He will be missed by all including the other animals at the farm.

---
---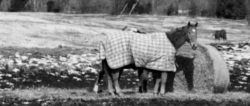 Alisa, Cheryl, and all the volunteers at SavetheHorses gave Quinn a great life.
Read more on the SavetheHorses Daily News:
The Life of Quinn
---
---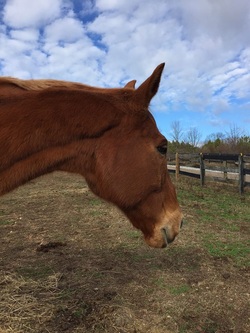 To all my friends who loved me, thank you for best Life a horse could ever ask for! Your love will remain with me forever! But now, there is a pasture where my brother waits for me, and I miss him so much! EZ, here I come! ~Alisa
---
---
---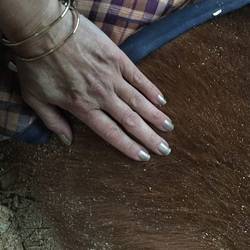 We Love You, Quinn
Quinn was buried in EZ's coat, with his favorite peppermints scattered all over him...He and EZ are finally together again.. Goodnight boys, mommy misses you...
~Alisa
---
---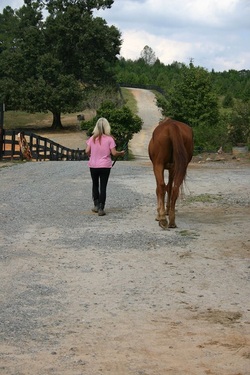 Quinn, Thank you for lifting me up, loving me, and standing firm by my side for 16 years! I was incredibly blessed! So now, let me walk you to the gate, give you a peppermint, and kiss your face as you join EZ on the other side...XXOO Mommy
---
---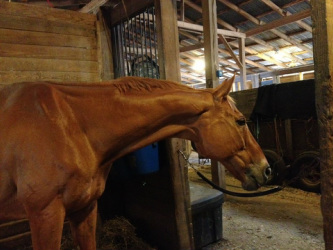 Rest in Peace Quinn...
Facebook Tributes:
Sher Keene
I'm so sorry to hear this. What a traumatic night. Cheryl, you do so much and feel so much, know that it means the world.
Alisa Cray
, sincerest condolences on the loss of your baby. To have to face this again so soon is heartbreaking. Love and light to you all.
Carol Wood
OMGosh I am so very sorry to hear this... My hear breaks for you and Alisa! No matter how long we have them, it is never long enough. RIP dear Quinn! May all who loved him find some comfort in knowing you provided him a wonderful life of love and care and compassion!!! God bless!
Cathy Cox Walker
Alisa Cray
, I have thought often and recently told my husband that I don't know anyone who was more dedicated to their horse/s, spent time with, or showed love to their equine buddies more than you. You were put in their lives not by chance but by design and you no doubt fulfilled your role of loving devoted Mommy to them both. Their lives were comfortable and full of love because of you!
Robin Drazich
Heartbreaking news. I'm sorry for your loss. Sweet Quinn may be gone from us physically but he'll be with you in spirit and in your hearts. I'll pray that your pain is lessened by the love and support of your friends although the pain is always there and it never seems like we have enough time with our sweet babies.
Sandy Grove Lehmann
Heartbreaking news. I'm so sorry for your loss to everyone; Cheryl,
Alisa Cray
and everyone at the rescue that knew and loved Quinn.
Bonnie Maloney
So so sorry
Alisa Cray
. He was family. Blessings and comfort to you and all involved. My heart hurts for all of us. Quinn is now free of pain and all running with all that have passed. Getting chills on that. Thanks got being such a good mom to him.
Valerie Bseibess
So sorry for your loss Alisa Cray and
Cheryl Flanagan
. Prayers for your healing and may Quinn rest in peace.
Peg Mumbower
There aren't words adequate enough to say how sorry I am
Cheryl Flanagan
,
Alisa Cray
. RIP Quinny-the-Pooh, you're Momma loved you tons .
Arlene Tognetti
May the great, happy and funny memories of EZ and Quinn always be with you Alisa!
Robyn Merenstein-Max
Quinn, Cheryl and Alisa, I'm sending all my love and comfort your way. Quinn had such a sweet way about him. He will forever be missed.
Sandy Gomez
Oh no Alisa! I'm so sorry! I know how much you loved him; he was such a cool horse. I miss him too. I've been thru this many times with horses from the track and the farm. I also had one of my own. It isn't easy ; it's like one of your family. In time, you'll learn to deal with it, you'll never get over it.Take comfort in knowing you gave him a great home with lots of love
Jill DeVito Kennedy
Sooo very sorry for your loss....so sad for all of you who do so much to care for and love these animals. God bless you all, and prayers are with you...
Deborah Portwood
My heart breaks for you and for Cheryl...bless you both for all the Love you always provide and pour into these priceless loving horses!!!
Diamond G Stable
I could hardly sleep last night as my heart was so broken for you and Quinn. Not all people are lucky enough to experience such a bond as you, Quinn and EZ had for each other. You were truly blessed and my thoughts and prayers are with you as you try to mend your broken heart. Your two angels will be watching over you.
Deborah Smith
For the last 2 1/2 years, I had the privilege almost every Saturday afternoon of leading Quinn into the barn from the pasture (or out of the barn into the pasture during the summer). We had a routine, and he would often just walk with me - no halter and rope were even needed until we reached the gate to leave the pasture. I will treasure those memories, the link we shared for those few minutes each week, not knowing that the first time we did it in 2015 would be the last... Thank you, Quinny. I came to the barn to help rescue horses, and you were one of the ones that helped to rescue me.
Brandy Soltesz
So very sorry for your loss of Quinn Prayers of comfort & strength to get through this very sad time
Cindy Singer
I am so very sorry, Cheryl and everyone that loved Quinn. Sending healing prayers out to all. Rest peacefully, Quinn.
Julie Elaine
We all love you Quinn. Sunday and I send our love. We love you buddy.
Alisa Cray
, and Quinn, and EZ, thank you for being an inspiration and showing us what true love looks like. Your relationship between all three of you is unparalleled. Quinn, you and Alisa taught me so much. Love you Quinny
Sandy Gomez
I'm so sorry! I know how much you loved him; he was such a cool horse. I miss him too. I've been thru this many times with horses from the track and the farm. I also had one of my own. It isn't easy ; it's like one of your family. In time, you'll learn to deal with it, you'll never get over it.Take comfort in knowing you gave him a great home with lots of love.
Kathy Britt
Oh no.... I am so very sorry......I know there are no words to help. But my thoughts and prayers are with you and sweet Quinn . RIP Quinn, you are free across the Rainbow Bridge.
Melinda Jones
I love the added peppermints!!! You are such a GREAT mommy to them both!!!! They will be so happy to see you when you get to heaven!!!! Hugs to you!!!!!!
Sharon Perenkovich Padgett
Oh Alisa! Such heartbreaking news! May peace be with you during this overwhelming time of grief. Love you.
Deborah Andrews
Love you Alisa. Your boys can run and play with Camelot and my dogs till they see us again. Hugs.
James Cray
Maybe it's time for you to sell your house and buy something with a barn ad grazing area. That way the nest angels you adopt are in your own back yard next to you every day. xOM
Darren Bondy
I wish it wasn't so. We are all here for you
Alisa Cray
! You're an amazing Mom! You were lucky to have each other.
Tiffany Hufford
I will never forget how much he loved to suck on his peppermints he was always so persistent to be given one out of your tack box
Claire Schwartz
Horses are never suppose to die... they grow wings and fly to heaven and to be unicorns... i know mine did.
Darren Bondy
The joys of being at the Rainbow Bridge. They're together again. You'll be reunited someday. Until then, there's plenty of other horses you can love and care for.
---
---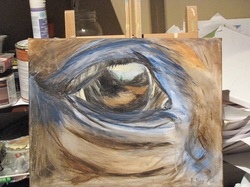 Rachel Taylor Pate
Quinn's eye... the painting I painted a few days after this.
He (The king of the barn) looked at me as if to say, "yes, I wish to go out to play, but not before my dinner. Dare you forget me? " No, Quinn. We can not ever forget you. You are so loved.
---
---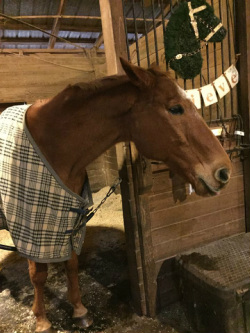 A Poem for Quinn...
Just this side of heaven is a place called Rainbow Bridge.

When an animal dies that has been especially close to someone here, that pet goes to Rainbow Bridge.

There are meadows and hills for all of our special friends so they can run and play together.

There is plenty of food, water and sunshine, and our friends are warm and comfortable.

All the animals who had been ill and old are restored to health and vigor; those who were hurt or maimed are made whole and strong again, just as we remember them in our dreams of days and times gone by.

The animals are happy and content, except for one small thing; they each miss someone very special to them, who had to be left behind.

They all run and play together, but the day comes when one suddenly stops and looks into the distance. His bright eyes are intent; His eager body quivers. Suddenly he begins to run from the group, flying over the green grass, his legs carrying him faster and faster.

You have been spotted, and when you and your special friend finally meet, you cling together in joyous reunion, never to be parted again. The happy kisses rain upon your face; your hands again caress the beloved head, and you look once more into the trusting eyes of your pet, so long gone from your life but never absent from your heart.

Then you cross Rainbow Bridge together....

Author unknown...

---
---
Quinn's Gallery

---
---