Celebrate Sweetie's Life

---
We Will Miss You!

---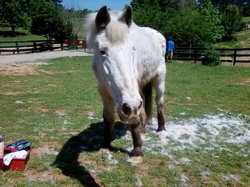 Sweetie was the oldest horse at the SaveTheHorses farm. She was 36 years old when she recently crossed over the rainbow bridge. She had many health issues such as, anhydrosis (no-sweating), Cushings, Moon blindness, arthritis, and had suffered a stroke in the past.

Her name was perfect for her because she "adopted" Patience, one of the young foals on the farm. She was always looking out for that little one. Just goes to show that horses have hearts, too, and sweetie had a big one.

She will be missed by all including the other animals at the farm.

---
---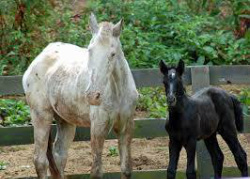 She had a wonderful life...
Here is Sweetie with her last baby she raised. This was her 5th though she never had any babies herself, she raised every foal whether orphaned or with it's mom, she insisted on helping. She even gave milk to an orphaned foal at age 26.

Here she is with her last foal, Patience 4 years ago. The mom, Indigo, didn't want help but Sweetie persisted until she got babysitting privileges.
---
---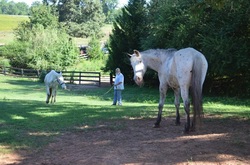 Rest in Peace Sweetie...
Sweetie is Resting In Peace. Thank you to Dr Christine Murray who was not even on call this morning. She helped Sweetie cross in Peace.

Here is a great picture of her just last year at 35 years old.
---
---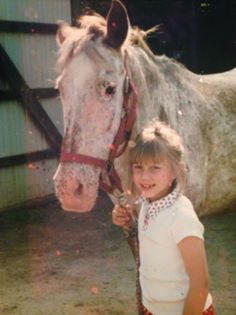 Caroline Ashway:
"Just like countless other little girls, Sweetie taught me how to ride, jump, show, and love unconditionally. This is us in the mid-90s. She was an unbelievable pony and I'm so lucky to have had time with her. Rest in peace, Sweet Chance. You've earned it."
---
---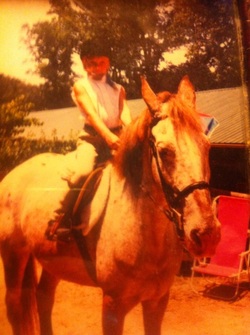 Peggy Weldon:
"Rip Sweetie! She babysat and taught alot of little girls to go on and become great riders! She also babysat many orphaned foals! Very special pony who will always be in our hearts!

Thank you Cheryl Flanagan....you do amazing things for all these animals. Everyone should donate to her Save The Horses rescue fund.....all money is used for incredible things for these abused, unwanted animals....many blessings, Cheryl"
---
---
Natalie Richardson: "Natalie riding Sweetie at Wills Park almost 15 years ago.

Sweetie taught me so much in life. I was lucky enough to have known her for almost 15 years. She taught me how to ride then jump then care for her when she was ill. She not only influenced my life but many others."
---
---
Sandy Adams:
"I am just blessed to know that there is a special place for anyone who helped this "once in a lifetime" mare live out her last days as useful and happy as she did...with all the friends and loves in her lifetime...just praise God for everyone she touched."
Lee Adams Rast:
"As I look at all the sweet words written about Sweetie, I am given to thinking of all the horses that have spent their lives teaching little riders to love, to persevere, to be disciplined and to appreciate the beautiful soul of an animal. Id bet she had enormous "pride" in the job she did and clearly, there was an abundance of love being shared between rider and horse. Her life is a love story."


Melissa Phillips
: "So sad for your loss Cheryl. The barn just won't be the same without her but rest knowing she's galloping in green pastures with all those that have gone before her."
---
Sweetie's Gallery

---
---