---
Clothing
---
Chaps
---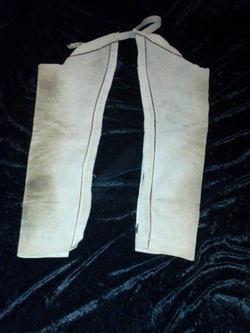 $5 - Youth Size 12 suede chaps; light tan with brown piping

#1L

---
---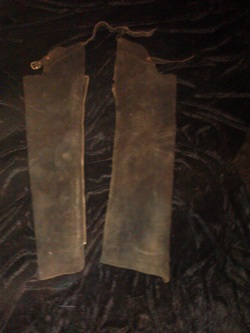 $5 - Youth size 12, black suede chaps

#2L
---
---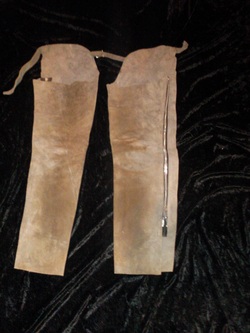 $3 - Youth size 12, gray suede, missing buckle can be easily replaced

#3L
---
---
$5 - Youth size Large, chocolate brown suede chaps

#4L
---
---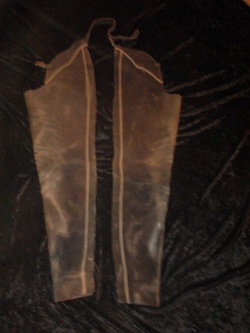 $5 - Adult M/L chocolate brown suede chaps with tan piping

#5L
---
---
$5 - size 12 girls leather and fringe chaps

12L
---
---
Fly Mask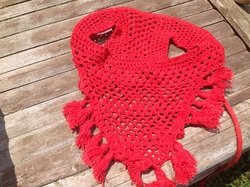 $5 - Both effective and affordable, the crocheted fly bonnet will keep bugs out. This colorful fly mask is classically styled with yarn tassels to brush flies away from your horse's eyes.

#1F
---
---
Horse Clothing
---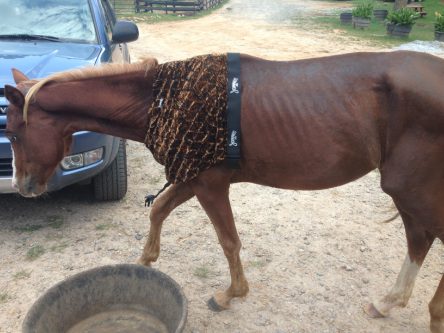 $10 - Cheetah Jammies
Brand new in original packaging.
Size small. Fits 300-600lbs.
Prevent shoulders from chafing with the Jammies Designer Shoulder Guard. Jammies help messy horses stay clean by shielding against shavings, dust, and dirt. High quality 4-way stretch nylon Lycra. Easy care: Machine wash warm, tumble dry low. Made in the USA.

#1H

Modeled on Bugg, a recently rescued horse.
---
---