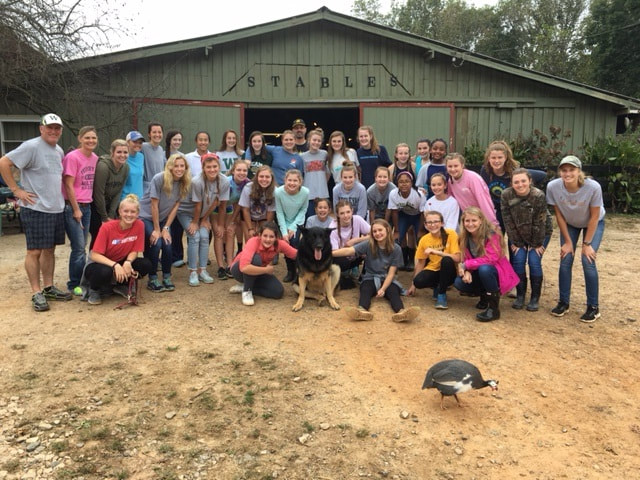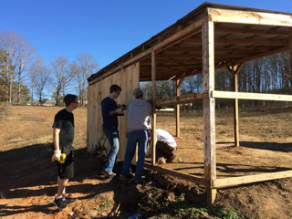 A HUGE thank you to the Eagle Scouts led by Liam for rebuilding the run in for the horses. You are all awesome. The horses love and appreciate what you have done for them.


"The people who helped me were William Parish, Aubrey Haley, Grant and Garret Butler, Will Bradley and his dad, Steve, along with my parents and my sister, Shealyn." ~Liam
---
Many thanks to Head Coach Ted Russell, the parents, & the Volley Ball team of Wesleyan School that came out to volunteer at Save the Horses on October 14, 2017. We were all very much impressed with you and so appreciative of the work you did. Even Matilda was enthused!!! YOU ROCK!!!
​
"This group was amazing. I think almost every paddock on the property was cleaned today. They were such a great group and their leaders/coaches/parents that came were invaluable in leading the girls in the cleaning. Just an amazing group of people . We thank you." Kathy, Saturday Voluteer Lead
---
We could not survive without our volunteers!

We are an all-volunteer organization where we currently have no paid staff. We could not do all that we do without the help of our incredible volunteers!

Each and every volunteer that comes our way is truly valuable to our organization, and we appreciate all of the hard work and effort that volunteers give to us freely on a daily basis.



---

---

---

Thank You Volunteers!

---

Thank you to the AWESOME volunteers that came out to help on Thanksgiving Day, 2014.

Thanks again everyone. We could not do this without YOU!

---

Note:

*You can only volunteer if you have attended the New Volunteer Orientation. Click

here

for more information.

---

Volunteers are the backbone of our rescue!

Find out about our free

Orientation

(held on the 2nd Saturday of every month @ 9am) where you will learn how to volunteer at SavetheHorses.

---

---

---

Happy Days Ahead!

SaveTheHorses has always claimed to have the Best volunteers! It is very true. Three families who have volunteered, adopted and sponsored horses and helped with all kinds of things here at the farm just gave us some exciting news!....

---
Ways You Can Help

---
Donation
Our financial needs are ongoing, with the expense of food, veterinarian, ferrier, hay, etc. for 90 horses.


Sponsor!
Sponsor a Horse

Kids Birthday
Schedule an unforgettable kids birthday party. Includes hand painting of ponies and pony rides.


Field Trip
For school, church, camps - any group of kids can tour the farm and meet the animals.
Shopping Rewards
Help us by joining a rewards program at popular stores such as Kroger, eBay, & Amazon.

Volunteer!
And help with our barn chores, etc.
---
Make a Difference!
Making a difference in the lives of our horses and for the chance to make a difference in the lives of many more to come with your tax deductible gift only takes a moment by clicking the donate button below. Thank you for the support of Save the Horses.

---
---
---
---
---
---