---
Fundraise for the Animals

---
We would love you to get involved
Fundraising does wonders for rescuing, rehabilitating and rehoming hundreds of animals every year.


By raising money for us, you'll help us to feed and provide medical care for the over 100 horses and other animals that we care for. If you have an idea, contact us to chat about it and we will help by promoting your event on this page and via social media. Proceeds can be donated to us via Paypal (click the donate button below) or by Check. Please note your name and the event name so we know who to thank.

Save the Horses (The Horse Rescue, Relief & Retirement Fund) is a 501(c)(3) and all donations are tax deductible. TAX ID: 58-2479748

Fundraising IDEAS include:

Bake sale, Garage sale, Charity run or bike ride, sponsored walk, set up a Giving page and share it with your friends.

Let us know what event you are planning and we will post it here.

Contact us at: fundraise@savethehorses.org

Please see below for some current Fundraisers.
---
Buy Eco Friendly Lunch Boxes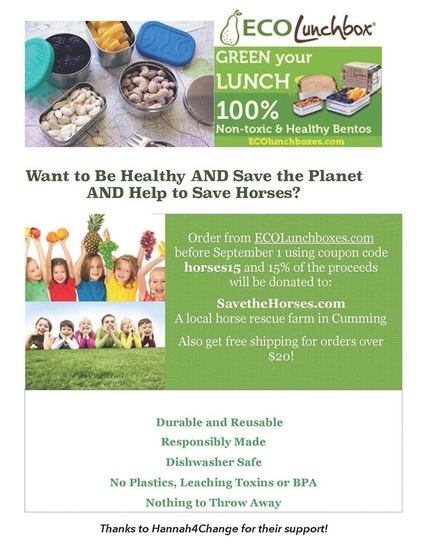 Purchase some amazing eco friendly lunch boxes and not only save the earth (responsibly made) and your health (bpa and toxin free) but also save some horses.

This fundraiser is the brainchild of Hannah Testa, the phenomenal Cumming teen who has already been fundraising for Save the Horses since she was 10 years old.

Please support her in this wonderful campaign to support our horses. Thank you Hannah!

Order from ECOLunchboxes.com before September 1 using coupon code horses15 and 15% of the proceeds will be donated to: SavetheHorses.
---
---
Special Edition Save the Horses Print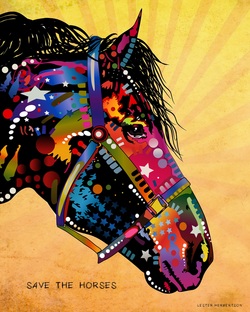 Brilliant Color
Created for Save the Horses, this limited edition print will brighten any home or office.

Proceeds will be donated to Save the Horses.

---
---

---
Make a Difference!
Making a difference in the lives of our horses and for the chance to make a difference in the lives of many more to come with your tax deductible gift only takes a moment by clicking the donate button below. Thank you for the support of Save the Horses.

---
---
Save the Horses (Horse Rescue Relief And Retirement Fund, Inc
)
The Horse Rescue, Relief & Retirement Fund is a 501(c)(3) and all donations are tax deductible. TAX ID: 58-2479748
1768 Newt Green Road, Cumming, GA 30028 ~ 770.886.5419
www.SaveTheHorses.org
~ email:
info@savethehorses.org
---
---
OUR SPONSORS:
---