---

PINK HORSE SHOE PAGE UNDER CONSTRUCTION

Horse Rescue Relief and Retirement Fund, Inc. Established 1998 Non Profit 501(c)3



SaveTheHorses.org
1768 Newt Green Road
Cumming, GA 30028
770.886.5419

Save the Horses was created to address the urgent need for rescue services and equine public education. We are an all-volunteer organization, operating solely on the donations given through the generosity of compassionate and caring people.
Save The Horses ~ No-Kill Shelter

---

How far would you jump to help
Save The Horses?
Check out EVENTS page now!

---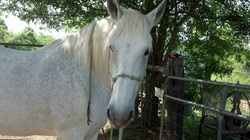 What do you see? A Percheron horse with a halter, right? There is so much more to this picture then meets the eye. This is a Premarin mare. PRE=pregnant, Mar=mare, IN=Urine. She was owned by a drug company , kept pregnant and stood in a straight stall hooked up to a catheter, given less water then necessary to make her urine stronger for the drug prescribed for women to use during menopause.
No longer wanted, she was shipped from Canada to an auction in Roanoke, AL with 100+ other mares to be sent to slaughter. That was in 2001 or so. STH's organized a campaign and publicity brought in great homes. All horses were bought by private homes, no went to slaughter. This mare went to an older couple who lived in Warm Springs, GA. They named he Lady. The husband cared for her until he passed away in 2011. We were called to take her and realized she had been fed well but never handled. Getting her in a trailer was a job but patience won out. Tom did a great job of sweet talking her and told her she was coming to a safe place. Since she arrived, we let her be a horse and would touch her for as long as she allowed. Sandy has been going to see her daily for a long time and asking her to put the halter on. Lady finally accepted and said 'YES'! It may not sound like much to some, but to STH's and to Sandy, it is a giant break through. We use no force, no domination, no fear, just gentle asking and lots of love. Great job Sandy! Amazing to say the least.


---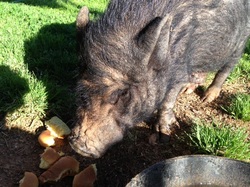 Annie, the pot belly pig, came to STH's in 1998. After owning her two years, the family decided to call the 'slaughter guy' if we didn't take her. Annie was a gift for a family in Buford GA. She was a tiny baby pig and was welcomed to live in the house her first year. Then they moved her out to the yard. By the time she was 2 yeas old, they didn't want to car for her at all. She was STH's first piggy. She has been a love for 14 years. Annie was sweet and kind to all visitors. She developed a tumor on her stomach and couldn't get up without human assistance for the past 6 months. We were happy to help because once up, she was fine. Recently, the tumor got bigger and her breathing was getting affected. We decided it was time to let Annie cross over the Rainbow Bridge. With the help of Dr Amanda Cerniglia, she went peacefully. Rest In Peace Annie 1996-2014


---
---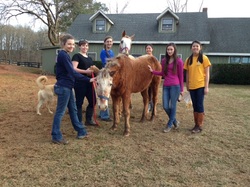 These great volunteers from Lassiter came out to groom some horses. These girls picked Lucy-too and her almost blind companion Deja. Both the horses and the girls had a great time. I love these teens. They come out and work and love on the needy horses. There are many fancier horses here but they let their hearts lead them to these two mares.

These girls will change the future with their compassion and care.



---
---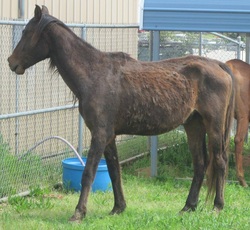 Henry County Animal Control needed to find homes for 2 horses that were surrendered to them. They were in a bad situation, too many horses, not being fed properly. Happens too often.
SaveTheHorses Rescue Farm was full but a wonderful foster home offered to help. He was named Kashmir and it looks like the foster family may be falling in love. He is surely enjoying the care and kindness he is now receiving. If they decided not to keep him after he is back to good health, he will be available for adoption.
So nice to have good people who are willing to foster horses. It is the only way we are able to help so many, because of YOU. WE are Rescue!
---
---
---
Saving A Horse..It Takes Many People!
Rescue organizations working together! WE are Rescue. WE can save horses. You are all Rescue! You care, you pray, you love, you share, you support us.
When we got there, 'Colter' was down since last night possibly. Doris Buckley and Sue Crane, both from SOS of horses rescue, had been there with a vet earlier today. We brought the sling and a tow truck was already there to help. Colter is a 28 y o gelding who is pretty thin. We (SaveTheHorses.org) brought the sling and we were able to get him up but he tripped and fell to the ground after about 10 minutes. We let him rest again and we managed to get him up again but we left him in the sling for well over an hour even though he was standing on his own. He was weak and wobbly. He drank Gatorade and ate a good mash of food and was eating some alfalfa hay . It was good for our hearts to see him standing for so long. It was after dark when we all packed up and left. Colter managed to stay standing for 24 hours. Sadly he went down again. The veterinarian came back out. Colter was too weak to recover and he was euthanized. It was too late to save him but rescues working together, we all tried out best. It was worth the try and we will do it again and again. Life is too precious to give up easily.




---
---
Red Chief was a show horse that went blind in one eye. Then he was not wanted and he was with SaveTheHorses for almost 3 years. No one ever considered how wonderful a horse he is until Amber came along. Yes, he's a Saddlebred, Yes, he windsucks, Yes. Amber sees his wonderful kind heart and spirit. Thank you Amber Picklesimer. Waiting for the right home is worth a million! Chief loves the attention! This handsome boy is awesome!
---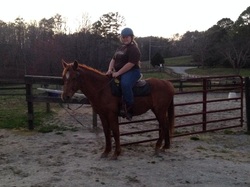 Crimson adopted by Ashley!
Ashley was finally released to ride from 3 months of recovering from a hip surgery. She was so happy to ride Crimson. They both had a awesome ride.
---
---
OUR SPONSORS: