Chipa Wolfe - Gone but never forgotten.

April 10, 2016 - From Cheryl: "I waited all day to post but many people now know. Chipa Wolfe, my dear friend and 'brother' passed away this morning at his home in Jasper. I don't let many people get too close to me but Chipa earned his way into my heart from the day we met. Our adventures were fun and crazy but we did it all to make the world a better place than before we arrived. Chipa left our world much better. I love him for it. He had been in the hospital until a few days ago. He died with his family around him. Sadly, I was going there to see him today but I got a call before dawn that Chipa's spirit was gone from this Earth. I know he has moved on joining Thunder and all his friends, human and animal, who have left on another journey. It is a circle of life."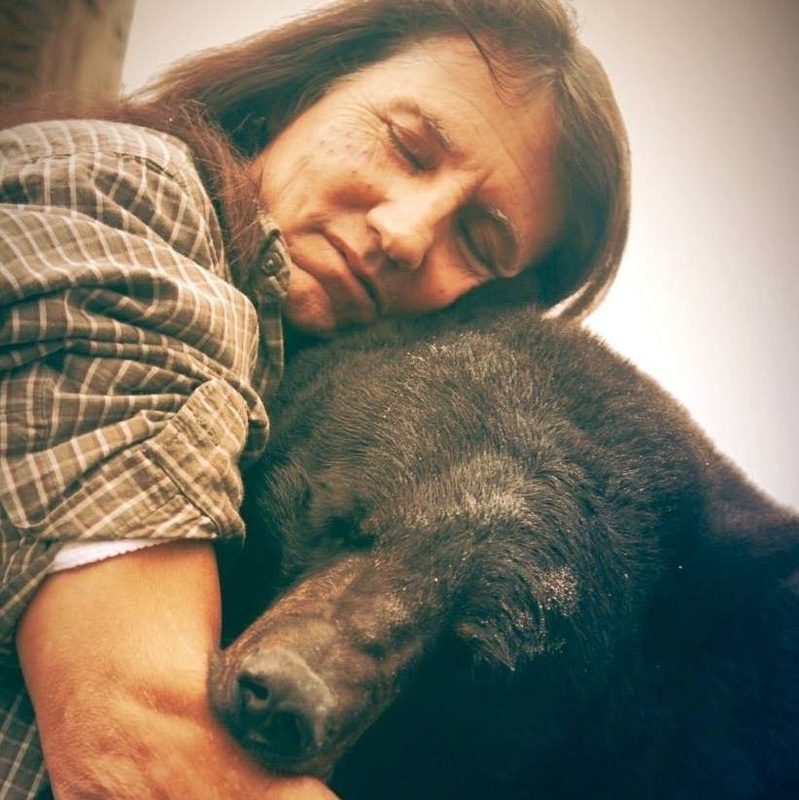 ---
Angels that we have lost
This page is dedicated to those souls who have left us and have crossed over the Rainbow Bridge. Although their passing has been difficult, they will never again know pain and suffering, hunger and thirst. They are young again, happy and running free.
---
We will miss you Quinn (1/12/15)
---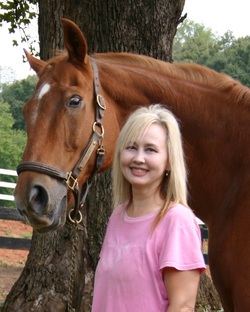 Rest in peace, Quinn. The world is a better place for you having been here.
To all my friends who loved me, thank you for best Life a horse could ever ask for! Your love will remain with me forever! But now, there is a pasture where my brother waits for me, and I miss him so much! EZ, here I come!
~Alisa
Read more about Quinn
here
Visit the Quinn Tribute Page
here
.
---
---
Red Chief
---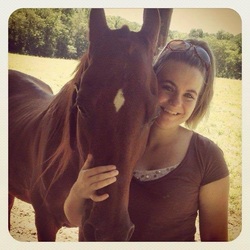 RIP Red Chief.
He came to SaveTheHorses blind in one eye and a super bad wind sucker/cribber, hard keeper but sweet boy. He was pasted over by many adopters but Amber and family saw this frog of a horse as the prince he was. They adopted him and loved him so much. He gave the love back and was a winner at the GA State 4-H show. Red Chief had choked a few days earlier and had been under the care of the Equine Vet the Amber works for. He was getting antibiotics and anti-inflammatory medicines but had no appetite. On Tuesday, I transported another adopted horse to the boarding farm and moved one of their other horses to where Red Chief was recently moved very near their home so Amber could hand feed him several times a day. I was anxious to see Red Chief but when we got to the pasture, we had to search for him. He was down, he was distressed. The vet was called. I went home to get my sling to help him up, the tractor was there to help lift him, he was surrounded by his human family but he took his last breath before we could do anything. It was heart breaking for everyone. We are thankful the everyone was there that truly cared about him. He died peacefully surrounded by love. Sometimes you try as hard as humanly possible and you can't save your beloved horse and it breaks your heart.
---
---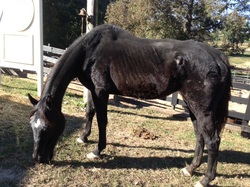 Dixie Kitten (RIP) 10/10/14
We took in a 15-year-old Thoroughbred mare named Dixie Kitten. Born in Kentucky, February 20, 1998, she raced and won over $110,000 for her owner, but when her racing days were over, there was no retirement for this mare. She was sent to have baby after baby until she was worn out and lost her last foal. When we picked her up, she was very malnourished and her feet were in terrible pain. We are not sure how she lost her last foal, but the owner assured me we could probably get three more babies out of her. Who could look at this horse and believe she could live through the birth of another foal?
Her feet are foundered and the damage is very difficult to repair. We are working with Dr Kenneth Marcella to see if Dixie can be made comfortable and pasture-sound so she can have a life without the pain she feels now. It seems like she is improving, then it gets worse again. It is difficult for her to gain weight when she is in so much pain. She goes out of her stall and enjoys the sunny days and happily eats her hay; then another day she will lay down in her stall and you can see she is hurting. She is surely in a better place at the rescue farm but we really have to keep searching for answers to make her well.
Hopefully we will have a happy update soon. She deserves a good life. If she does recover, she will be available for adoption as a pasture pet. If you would like to help Dixie Kitten, you can send a donation in her name to help with the expenses for her recovery.
Read the latest on Dixie Kitten on our blog here.

Note: Dixie crossed the rainbow bridge on October 10, 2014. We will all miss her.
---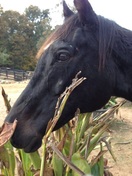 Gone but will never be forgotten...
RIP dear, sweet Dixie Kitten.
The farm will not be the same without you!
---
---
Rest in Peace Sweetie (8/10/14)

---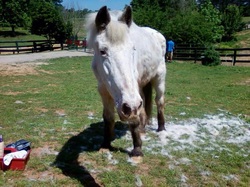 Our dear Sweetie crossed the rainbow bridge on August 10th. Words cannot describe how much she will be missed by the volunteers that she has touched as well as the residents of SavetheHorses. If you have any pictures or tributes, please post them on our
Facebook page
. Thank you.
Click here for Sweetie's Tribute Page.
---
---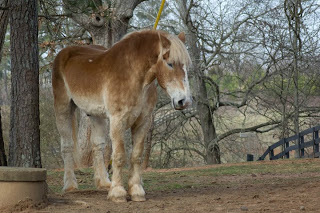 Roy
Poor Albert (Nubian goat). His best friend and the one he slept with...ate with...shared a stall with... passed away. Roy was a large draft horse...so gentle and kind. He was nearly 40 years old. Roy passed away in his sleep... on the pile of shavings right outside his stall. Albert w
as curled up with Roy when they discovered Roy had passed away. Albert stayed with his body all that day... the volunteers placed a tarp over Roy's body while they prepared a spot for him to be buried. Almost a week after Roy's passing, Albert hadn't gotten off this tarp other than to eat a little. We miss you, Roy. ~Rachel P. (volunteer)

---
---
Good Bye Lady Jane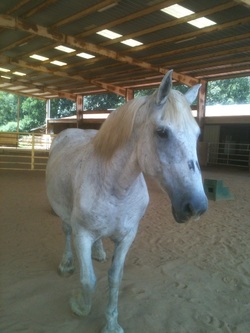 Lady Jane has left us. We let her go with dignity. It is the hardest choice to make for any horse. There is no turning back, no changing your mind once you euthanize them. All you have left are the memories and they make your heart feel empty for a long time.
Sandy put bows on Lady Jane before we let her go to Heaven.It was nearly a year ago that Lady Jane arrived. Everyone gathered around the trailer to see this majestic beauty. She was a big elegant Percheron mare. Beauty's Haven Equine Rescue (
http://www.bhfer.org
) in Florida asked if we could take her. She wasn't doing well in the humidity of a Florida summer. She seemed to have some breathing problems. She moved slowly and flared her nostrils. All of the volunteers loved her but Sandy Lehman was totally in love with Lady Jane. She wanted to adopt her but I wanted to make sure Lady Jane was healthy and didn't have any breathing problems like COPD. If she did, Sandy most likely would still adopt her but we would know exactly what she needed to keep her healthy. As the weather cooled, she started moving better and breathing fine. Sandy started to gently ride her and they both seemed happy to be best friends. Sandy started to buy her feed and Lady Jane was never without special treats. Everything seemed perfect.
It was early March when she started laying down. We didn't notice a limp for a few days. She was a trooper. The farrier came out to see her, then the vet came out to check out her foot. An abscess is painful but treatable with some work and patience.
More farrier care, more soaking her foot, applying special medications that were sent to cure her. We had radiographs done, dug out infections, cleaned them out to have another place on her hoof start oozing with pus. Then it would come out above her hoof, more radiographs, more medications, more soaking, more prayers, more hope. All the while we had Lady Jane on anti-inflammatory medication so she would stay comfortable.
We did not want to give up. Dr Mary Pat Hill donated her time and expertise to do homeopathic remedies and acupuncture regularly. Sher Kerr volunteered to do Reiki treatments. Everyone sending good thoughts and prayers. We even considered seeing if we could get a prosthetic hoof made for her if we could figure out how to make it work comfortably. We has so many wonderful suggestions for horse lovers everywhere.
Now 4 months and $3000 later, we could not win this battle against the infection. Lady Jane was put to rest in the big pasture, covered with her new blanket and lovely roses placed at her head.
Sandy is going to pay Lady Jane's medical bills. Though she never adopted Lady Jane on paper, she surely adopted her with her heart and soul.
We question every decision, every treatment. We so wanted a better ending and not now but years from now. Sandy was here every day, many days for hours. I sang to Lady Jane every evening. I would do my night time barn check and sing, 'Lady, when you're with me, I'm smiling'. Now I am crying.
We will always miss Lady Jane. The emptiness will start to fade away but right now it hurts so much. It is heavy on our minds.
---
---
OUR SPONSORS:
---
Make a Difference!
Making a difference in the lives of our horses and for the chance to make a difference in the lives of many more to come with your tax deductible gift only takes a moment by clicking the donate button below. Thank you for the support of Save the Horses.

---
---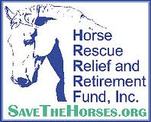 Save the Horses (Horse Rescue Relief And Retirement Fund, Inc .
)
The Horse Rescue, Relief & Retirement Fund is a 501(c)(3) and all donations are tax deductible. TAX ID: 58-2479748
1768 Newt Green Road, Cumming, GA 30028 ~ 770.886.5419
www.SaveTheHorses.org
~ email:
info@savethehorses.org
---
---