---
Barn Buddy Program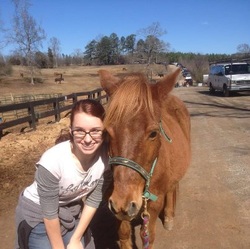 A barn is a sanctuary is an unsettled world of a foster child. They need a safe place where they feel unconditional love. Stuffed animals may give some comfort but a real animal, especially the size of a horse brings out lasting joy to a child. The Barn Buddy program's aim is to help adopted and foster children who struggle with attachment. We always appreciate the help of trained volunteers to keep the sessions safe and effective and we are grateful for the financial support to directly benefit these participants in the form of scholarships.
The generous support of our community, our volunteers and our supporters, make our Barn Buddy Program possible.
Check out our
FaceBook
page
For more information contact the Barn Buddy Director,
Susan Hughes
Get involved, Change the world!
---
---
Birthday Party Fun for Cowboys and Cowgirls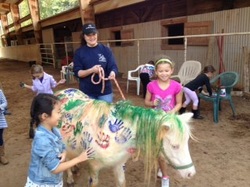 We would love your Lil' Wrangler to come out and have some fun on his or her Birthday. We have fun parties for all the Buckaroos, big and small. Ride a pony, paint a horse, literally! Use the pavilion and enjoy the party.
Click here to contact Brigitte
for more information.
---
---
Field Trips, Scouts, and Community Service Projects! Come See What It Is About!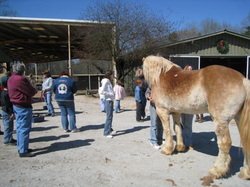 ---
---
---
Scout Badges!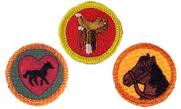 Looking for a great place to earn community hours or a horsemanship badge? We can customize a program to help your group!
Click here to contact Lisa
for more information!
---
---