---
About Us

---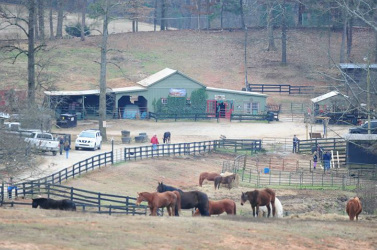 SaveTheHorses was created to address the urgent need for rescue services and equine public education. We are an all-volunteer organization, operating solely on the donations given generosity of compassionate and caring people.
For more information, email us @
info@savethehorses.org
---
Join our mailing list for up to date
rescue news and fundraising events.
---
---
Farm Statistics

---
Since 1998, SaveTheHorses has taken in, rehabilitated and found homes for over 1,000 animals!
Number of rescued horses:
Nearly 100
Type of rescued animals:
Horses, mules, donkeys, miniature horses, dwarf's, goats, pigs, chickens, ducks, sheep and a cow named Rosie.
Number of locations:
Two. Cumming, GA & Chickamunga, GA
Acres of land:
110
Year founded:
1998
Founder:
Cheryl Flanagan
Non-profit status:
Registered 501(c)(3). Horse Rescue, Relief and Retirement Fund, Inc.
Tax ID: # 58-2479748
~All donations are tax deductible.~
---
Our Mission
---
The mission of SaveTheHorses is to improve the quality of life for all horses, thereby improving the lives of people through their bond with the horses. We are committed to the rescue and rehabilitation of equines suffering from abuse, as well as the successful retirement of working equines. We strive to improve public awareness and knowledge regarding the standards of care necessary to insure the health and safety of all equines.
---
Our Animal Profiles
---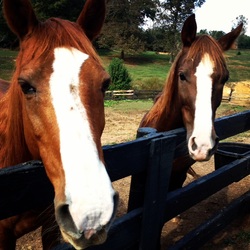 Read about our residents.
Read the stories about the precious animals that are in our care.


---
---
Save The Horses ~ A No-Kill Shelter
---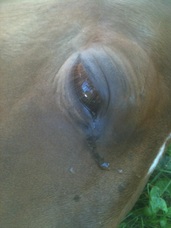 We are anti-horse slaughter Here are some of my thoughts as to why not to slaughter horses for any reason.

Americans have never raised horses for the purpose of eating as dinner. In history, civilizations that used horses in wars. First pulling chariots, then riding to conquer the lands they fought for. Then were used in transportation for centuries. Travel allowed trade with other people as well as bring their knowledge ideas to others. It would not have been done with the horse. Before the industrial age, horses were the work horses. They hauled stage coaches across the land and plowed fields. The first train was pulled by horses across the steel tracks. People used horses and horse drawn carriages to do local travel as well as moving the mail across the country.

Now horses are used in pleasure and sport. They are raced so people can enjoy the excitement of watching the speed and beauty along with winning some money. In the world wide Olympics, men and woman of all ages compete in one sport against each other equally, on the back of horses. If you take a person in a wheel chair and put them on the back of a horse, the disabled person becomes equal to an able bodied rider.

The horse is used in physical therapy because the horses movement has a 3 dimensional movement of a humans pelvis when walking. It can make people walk again.

Horses are honest and reflect the human they are with. You have to be in the here and now when you are with a horse. A 1200 pound animal can hurt a human but instead they let a 50 pound child walk them on a little piece of rope willingly. A horse is dynamic and powerful in itself. They help people overcome their fear and help develop confidence. They are intuitive and social animals like humans are. They can teach self-awareness, honest communication, healthy boundaries, leadership, patience and more. They have the ability to mirror human body language and provide us with learning about ourselves.
---
---
| | | | |
| --- | --- | --- | --- |
| Cheryl Flanagan, the Director of Save the Horses | | It averages $400 a month to keep a horse at STH and that does not include medical costs! We have a total of 90 horses! | |
---
Our Board of Directors
---
President - Cheryl Flanagan
Vice President - Thomas Scott
Marketing Director/Volunteer Coordinator - Cella Nelson
Webmaster - Bravo

Trudy & Bravo.
---
Make a Difference!
Making a difference in the lives of our horses and for the chance to make a difference in the lives of many more to come with your tax deductible gift only takes a moment by clicking the donate button below. Thank you for the support of Save the Horses.

---
---
Save the Horses (Horse Rescue Relief And Retirement Fund, Inc
)
The Horse Rescue, Relief & Retirement Fund is a 501(c)(3) and all donations are tax deductible. TAX ID: 58-2479748
Mailing address: P.O. Box 1123, Ball Ground, GA 30107.
Farm: 1768 Newt Green Road, Cumming, GA 30028 ~ 770.886.5419
www.SaveTheHorses.org
~ email:
info@savethehorses.org
---
---
---