---
Cheryl @ Save the Horses
---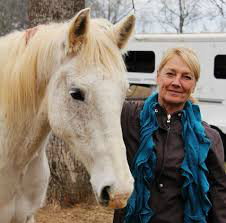 As a girl in the 1950s, Cheryl Flanagan loved watching westerns on her family's black and white television set.
"I wanted so badly to be a cowgirl, but our only pet was a little Chihuahua dog and I couldn't ride him," Flanagan said with a laugh. Her dream of owning a horse would have to wait.
In time, the horses began to find her. First, it was a neighbor's horse, Bee-Bop, who occasionally wandered over to the home Flanagan shared with her husband in Florida. She discovered that Bee-Bop was cruelly mistreated by his owners. Handling the matter carefully, Flanagan offered to buy Bee-Bop, saying she had a fondness for the Paso Fino breed. The neighbors agreed to the sale, Bee-Bop was moved to his new home and Flanagan discovered her true calling.
By 1996, Flanagan's family owned eight horses and moved to a spacious farm in Cumming, Ga., where Flanagan envisioned running a boarding business. However, destiny kept calling. Perhaps it was a friend with cancer who could no longer care for her horse. Or a volunteer from an animal control center with a story of an abused or neglected equine. Flanagan always agreed to house the animal until a new, safer home could be found.
"I can never say no, and I can never rescue just one," Flanagan admitted. "They haunt you. They look at you. Horses are honorable creatures. How could you walk away?"
Flanagan founded Save the Horses in 1998 and today, her barns and pastures are full, but the horses that find their way to Flanagan's farm need much more than room and board. They need love, patience and compassion.
Bravo is easy to spot in the front pasture of Save the Horses farm. Standing 17 hands (68 inches) tall, he is a Shire, one of the largest draft horse breeds. He is a beauty, with a dark brown coat and a thick white stripe from his forehead to his nose. A gentle giant, Bravo acts as the farm's mascot and patiently bows his great head for friendly pats from visitors. Bravo was rescued from a slaughterhouse in Illinois that burned, forcing the owners to sell the horses at auction.
Quinn, a reddish-brown thoroughbred, slowly walks beside a wagon full of children who smile and giggle, holding out fistfuls of hay. Quinn is a former racehorse who developed anhidrosis, a condition that prevents him from sweating and releasing body heat, thereby ending his racing career. Many horses in his situation would be sold for slaughter. Thanks to Save the Horses, Quinn received special care and a chance for life after the track.
Some horses arrive at Save the Horses close to starvation or with serious injuries. Caring for an animal that has been abused by humans is not an easy task and requires infinite patience. Flanagan is grateful for the 20 or so devoted volunteers who come to the farm regularly to help wounded animals heal physically and mentally.
Volunteer Roger Morton drives 40 miles from Braselton, Ga., once a week to spend time with horses like Trudy, an old, mostly blind, white Appaloosa mare whose story captured his heart. Trudy was horrifically tortured by her previous owners and arrived at Save the Horses terrified of humans. Flanagan said it was heartbreaking to be around Trudy at first.
"She would tremble at her shoulders and arch her neck as if to hold all of the fear in her neck muscles. We wanted so badly to help her understand that we would never hurt her or let her be hurt again," Flanagan recalled.
Gentle volunteers worked with Trudy for a long, long time as she slowly learned to trust. The first time she timidly touched her nose to a human's shoulder, everyone present had tears rolling down their cheeks.
Morton now visits Trudy weekly. She allows him to touch her, lead her and, on a good day, to clean a hoof.
"For all the love and patience I show her, she gives so much more back to me," Morton said.
Some horses like Trudy will always live on her farm, but Flanagan tries hard to find caring homes for those that are physically able. She has many stories of happy endings.
"Last year, we rescued a quiet, gentle mare from animal control in North Georgia and named her Cinnamon," said Flanagan. "During our Christmas at the Farm fundraising event, a family from Ellijay arrived late in the day with their 10-year-old son who was being treated for brain cancer. The pony rides were over, but we decided to take Cinnamon out of the barn for one more ride so the boy wouldn't be disappointed. The two of them immediately trusted each other and the family ended up adopting Cinnamon!"
Flanagan said connections sometimes form between horses and humans she never would have put together.
"The horses tell you who they want," she said. "They have an instinct."
There are currently 108 horses, mules and donkeys being cared for by Save the Horses. Flanagan leases a second farm in North Georgia to allow space for more rescues. While her heart is big enough to care for all of them, her pocketbook is another story. Finding the funds to house, feed and medically treat that many large animals is a constant challenge, especially during the winter months. She relies on donations and volunteers to keep the farm running. Save the Horses also hosts birthday parties and field trips in addition to a monthly open house on the second Sunday of each month.
Flanagan believes strongly that if you do good, it comes back to you.
"There have been days when we've been down to our last dollar and the next day a check will unexpectedly arrive from a donor," she said. "I've learned to just kind of let things happen and it all works out in ways you might not expect."
Flanagan's gentle, generous spirit is felt by all of the creatures on her farm, from giant Bravo out in the fields to tiny Goliath, the little dog who trots at her heels.
"Cheryl gives so much love, not only to the horses, but also to the people who volunteer for her," said Morton. "If she didn't have the courage to do what she does, then I wouldn't be here doing what I love."
Source: Northside Woman

Photo:
Cheryl Flanagan poses with 30-year-old Lobo who was rescued from an abuse situation in Gwinnett County, Ga.
Lobo now happily greets visitors to the farm. (Photo by Katie VanBrackle)
Save the Horses
Mailing address: P.O. Box 1123, Ball Ground, GA 30107.
Farm: 1768 Newt Green Road, Cumming, GA 30028 ~ 770.886.5419
770-886-5419 |
savethehorses.org
Visit the farm:
An
open house
is held on the second Sunday of each month from 1 – 4 p.m. when all are welcome to tour the farm and meet the horses. Free admission (donations appreciated).
Birthday parties
and
field trips
can also be arranged.
Make a donation:
Tax-deductible donations can be made online through Pay Pal at
savethehorses.org
. Or send a check payable to Save the Horses to the address above.
Adopt, foster or sponsor a horse:
Details can be found on the Save the Horses website.
---
---
Save the Horses - Making a Difference

---
---
Make a Difference!
Making a difference in the lives of our horses and for the chance to make a difference in the lives of many more to come with your tax deductible gift only takes a moment by clicking the donate button below. Thank you for the support of Save the Horses.

---
---
Save the Horses (Horse Rescue Relief And Retirement Fund, Inc
)
The Horse Rescue, Relief & Retirement Fund is a 501(c)(3) and all donations are tax deductible. TAX ID: 58-2479748
Mailing address: P.O. Box 1123, Ball Ground, GA 30107.
Farm: 1768 Newt Green Road, Cumming, GA 30028 ~ 770.886.5419
www.SaveTheHorses.org
~ email:
info@savethehorses.org
---
---