---
Pony Party @Save the Horses

---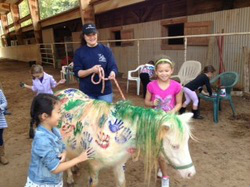 Have a Birthday Party to Remember at Save the Horses
Its a dream come true. Have a kid's birthday party complete with ponies, horse painting, pony rides and meeting all animals in our petting zoo including a sheep, goats, ducks, pigs, chickens, donkeys and miniature horses.

Celebrate your Lil wrangler's birthday under a covered pavilion. It's the perfect way to share your birthday with friends and help out the rescue at the same time!

Come out and let the horses give you the ultimate birthday experience!
---
---
Make Your Reservation Today!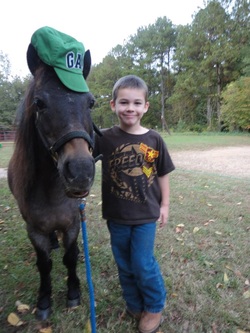 Bring your food, drinks, your cake, decorations, plates, napkins, party favors and utensils. We will provide a covered picnic area with tables and benches and a covered arena for pony rides.
The Details:
~Parties are 2 hours in length.
~Include pony rides, paint a horse, and tour of the petting zoo.
~
Fee is $295.00* for up to 12 children (tax deductible donation.)
~Additional charge of $8 per child for more than 12
children.
~Deposit of $50.00 is required to hold your reservation.
(non-refundable)
~We provide helmets or you can bring your own.
~Adults/parents must be present and supervising children at all times.
~This is a rain or shine event as our picnic and arena are covered.
~All donations must be cash, check or by Paypal.
All proceeds are tax deductible and go towards the care of the rescued animals on our farm.
We make sure each child is having a fun riding experience while ensuring their safety.
Our ponies are hand-led by our experienced and friendly staff.
So, if you're looking for a party idea that both the adults and children will remember for a lifetime, contact us and schedule your Pony Party today.
*PAYMENTMail checks to:
Save the Horses P.O. Box 1123, Ball Ground, GA 30107
Paypal:
Use the donate button at the bottom of this page. In the instructions add "Birthday Party and the date of the party"
For more information, contact Karen:
ponyparty@savethehorses.org
---
Join our mailing list for up to date
rescue news and fundraising events.
---
---
Make a Difference!
Making a difference in the lives of our horses and for the chance to make a difference in the lives of many more to come with your tax deductible gift only takes a moment by clicking the donate button below. Thank you for the support of Save the Horses.

---
Save the Horses (Horse Rescue Relief And Retirement Fund, Inc
)
The Horse Rescue, Relief & Retirement Fund is a 501(c)(3) and all donations are tax deductible. TAX ID: 58-2479748
1768 Newt Green Road, Cumming, GA 30028 ~ 770.886.5419
www.SaveTheHorses.org
~ email:
info@savethehorses.org
---
---
---