---
Volunteers make the world of difference at
Save the Horses!


---

Save the Horses is an all-volunteer organization.

That means the horses depend on volunteers for feeding, care and quality of life. We are always in need of individuals who are passionate, hardworking, motivated, dedicated and dependable to lend us a helping hand with feed shifts, grooming, horse care, events, barn projects and more.

You will be required to attend a Volunteer Orientation which is held on the second Saturday of every month on our farm. Please fill out the liability waiver below and bring it with you to the Orientation. Thank you for your help - We are Rescue!
Save the HorsesEmail us @: volunteer@savethehorses.org

---

---

Join Us @ the Next Orientation

---

New Volunteer Orientation is held the 2nd Saturday of every month. Join us to hear about the farm and how you can help us help the animals.

Volunteer OrientationDate:

Saturday October 14, 2017

Time:

9AM to 11AM

Cost:

FREE

Children:

Are welcome. Under 16 must have an adult supervisor.

Location:

Save the Horses ~ 1768 Newt Green Road, Cumming, GA 30028

RSVP:

Register

here

.

Parking:

Park on the driveway and walk through the gate. Its a rain or shine event - held under a covered Pavilion.

Dress code:

Wear closed toe shoes (no sandals, flip flops or steel toed boots) and clothes you don't mind getting wet or dirty.

Dogs:

No outside pets are allowed on the farm.

Alternate dates?: If you can't make the orientation, take a free tour at our Open House.Questions? Email: volunteer@savethehorses.org

1. Register to attend the Volunteer Orientation here.

2. Fill out the following Liability Waiver, print it and bring it with you to the Orientation.

3. Learn more about the Volunteer Orientation and what to expect.

4. Read and familiarize yourself with our rules for your safety as well as the safety of the animals in our care.

5. Meet some of our volunteers and find out what inspires them.

---

We welcome Boys & Girls Scouts! Click

here

for more information.

---

Volunteer @ Save the Horses


---

It takes a lot of people power to keep things running at the farm...we have about 90 horses plus other animals! We need volunteers to do all of the physical labor needed to keep the Rescue running smoothly and the animals well cared for.

Volunteers can help with the physical needs of the horses including grooming, feeding and providing TLC, or they can assist with barn chores such as cleaning stalls. We also need help with upkeep such as fence mending, painting and organization. You can make reference checks from your own home or even go checking on horses in foster homes. We get calls about neglected horses and you may be closer to just take a look.

Do you have a horse trailer? Can you transport horses? Whatever your talent, we'd love you to join our "Save The Horses Rescue Family."

If you have other skills that could support the Rescue, consider assisting with the newsletter, planning and working at special events and fundraisers, writing articles or helping to secure sponsorships.


---

---

We Need Your Help Rain or Shine!

---

During the hot, muggy days of summer as well as on the miserable, bitterly cold days of winter, the horses still need to be fed, the water buckets filled, the paddocks cleaned and the medications given.

If you say you'll be here, we're counting on you!

Volunteers are the backbone of the rescue farm.

---

---

Photo Gallery
---
---
OUR SPONSORS:
---
Make a Difference!
Making a difference in the lives of our horses and for the chance to make a difference in the lives of many more to come with your tax deductible gift only takes a moment by clicking the donate button below. Thank you for the support of Save the Horses.

---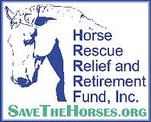 Save the Horses (Horse Rescue Relief And Retirement Fund, Inc .
)
The Horse Rescue, Relief & Retirement Fund is a 501(c)(3) and all donations are tax deductible. TAX ID: 58-2479748
Mailing address: P.O. Box 1123, Ball Ground, GA 30107.
Farm: 1768 Newt Green Road, Cumming, GA 30028 ~ 770.886.5419
www.SaveTheHorses.org
~ email:
info@savethehorses.org
---
---