---
URGENT!!! Help Skip Find a Home!
---

Skip is a 5 y o Palomino mare, ez keeper. The owner has had vet care but cannot keep her sound. She may be ridden by a child in a pasture but not a real ride. She's a great, sweet companion . Her owner wants to send her to a research facility.

I am hoping to find a better loving home before she sends her to her death.

Contact SavetheHorses at

Horseinc@aol.com

This is a courtesy listing. We care about the welfare of all horses!

~Cheryl

---

---
OUR SPONSORS:
---
Make a Difference!
Making a difference in the lives of our horses and for the chance to make a difference in the lives of many more to come with your tax deductible gift only takes a moment by clicking the donate button below. Thank you for the support of Save the Horses.

---
---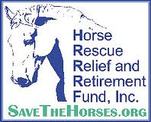 Save the Horses (Horse Rescue Relief And Retirement Fund, Inc .
)
The Horse Rescue, Relief & Retirement Fund is a 501(c)(3) and all donations are tax deductible. TAX ID: 58-2479748
1768 Newt Green Road, Cumming, GA 30028 ~ 770.886.5419
www.SaveTheHorses.org
~ email:
info@savethehorses.org
---
---